My first collection, the final entry in the Laidlaw Self-Rediscovery Series, is now available for your Kindle or Kindle app for $3.99 (that's less than 8 cents per story, some genius mathematician informed me).
A few people have told me they didn't know they could read Kindle books on their phones or tablets, as well as on their PCs. I'm here to inform you that you can. It's a perfectly pleasant experience however you manage it!
I am posting the introduction below.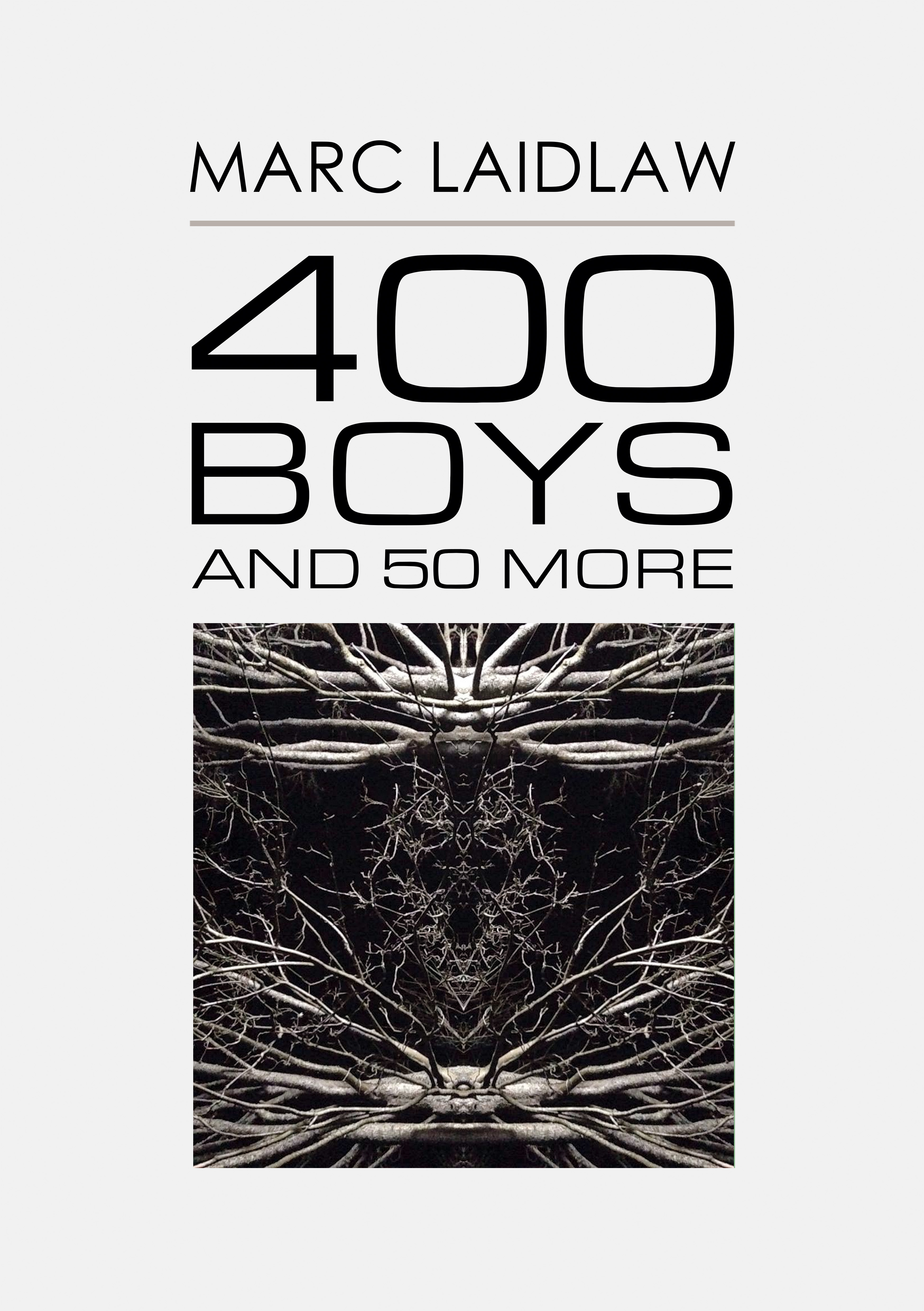 INTRODUCTION: 400 + 50 = 51
This collection contains 51 stories, well over a quarter of a million words, written over approximately 40 years, and assembled by the author, which is to say me, a fan of commas, and also afterthoughts. Most have been previously published, but apart from the occasional appearance in an anthology, they have never been collected in whole or even in part. Recently I made them all freely available at my website, marclaidlaw.com, rescuing numerous texts from paper and various obsolete electronic media; therefore it should be considered that this ebook exists mainly for the convenience of those who don't particularly enjoy reading from a website and prefer the traditional, old-fashioned electronic book experience just the way Nikola Gutenberg intended it.

The decision to choose 50 additional tales to accompany the titular "400 Boys" is largely but not entirely based on my desire to have another zero in the title. Who doesn't love more zeroes? I could have (and probably should have) included fewer stories; and with a bit more wincing I could have added several more. At the moment I'm on the verge of talking myself into 400 Boys and 40 More, a far more felicitous arrangement of numerals; or maybe I'll settle in for another viewing of The 400 Blows (a title a much younger me once suspected a much older Truffaut had stolen from him). But no! My resolve is firm. 50—I mean 51—it is!

For now anyway.

Since this is an ebook, and essentially software, I intend, laziness permitting, to continue patching the collection, adding more recent stories without altering the title (though I will append a changelist). I suppose it's possible that someday the title may have to be changed to "60 More" and then "70 More"; and in some distant future, provided I remain productive into a rich immortality, "Infinitely More." But for now I'm sticking with 50. Which is to say, 51. I already have some ideas about 52 and 53.
Since my goal was to collect most of my stories in one place, and to exert thereafter very little editorial judgment, I decided to group them more or less in the order they were written and/or published. I have no particular thesis or argument to advance that would be strengthened by presenting them in any other sequence. The weakness of this approach is that the early stories are naturally weaker than the later ones. I have made no attempt to hide this structural defect. I trust that by arranging them by decade, I've provided a hint to the reader of what they are likely to find when they wade in at any particular point of their own choosing.

I include here no collaborations, since those have mostly been available in the collected works of my partners. I include no tales of Gorlen Vizenfirthe, the gargoyle-handed bard, since I intend to collect those separately as The Gargoyle's Handbook ("Hello, publishers! All serious offers entertained!). Nor will you find any stories I can't bear to reread. While I had initially planned to present a "Compleat Laidlaw," ultimately I could not bring myself to exhume a handful of lackluster stories which well deserve their current obscurity. A few I am not especially fond of were spared excision on account of kind words spoken in their defense by others over the past few decades, but no one has ever stepped forward in favor of "Buzzy Gone Blue" or others nearly as embarrassing. There is one very recent story, "Roguelike," which I had intended to include; but it depends on typographic gimmickry, and given my limited self-publishing skills, I could not ensure it would hold up on various devices.
While providing a bit of context for each decade, I have mainly refrained from commenting on the individual stories. On my website, where these stories also appear, I have been adding occasional notes as anecdotes occur to me. You might look there for further illumination.

May you find here whatever it is you expect of me. If your minimum expectation is a quarter of a million words, most of them legible, prepare to have your expectations exceeded!