In the first season of The Sopranos, Tony's mother Livia enters nursing care, and is sitting up in bed reading when Artie comes to visit. This is her point of view shot: She's reading the obituaries. HD now allows us a glorious glimpse of the pasted-up paper she's reading, visible for a fraction of a second…unless you pause it on your iPad and take a screenshot. At first glance, one sees evidence of actual, old school cut-and-paste. But a closer read shows the two columns on the left had some actual work put into them. I've done my best to transcribe them below: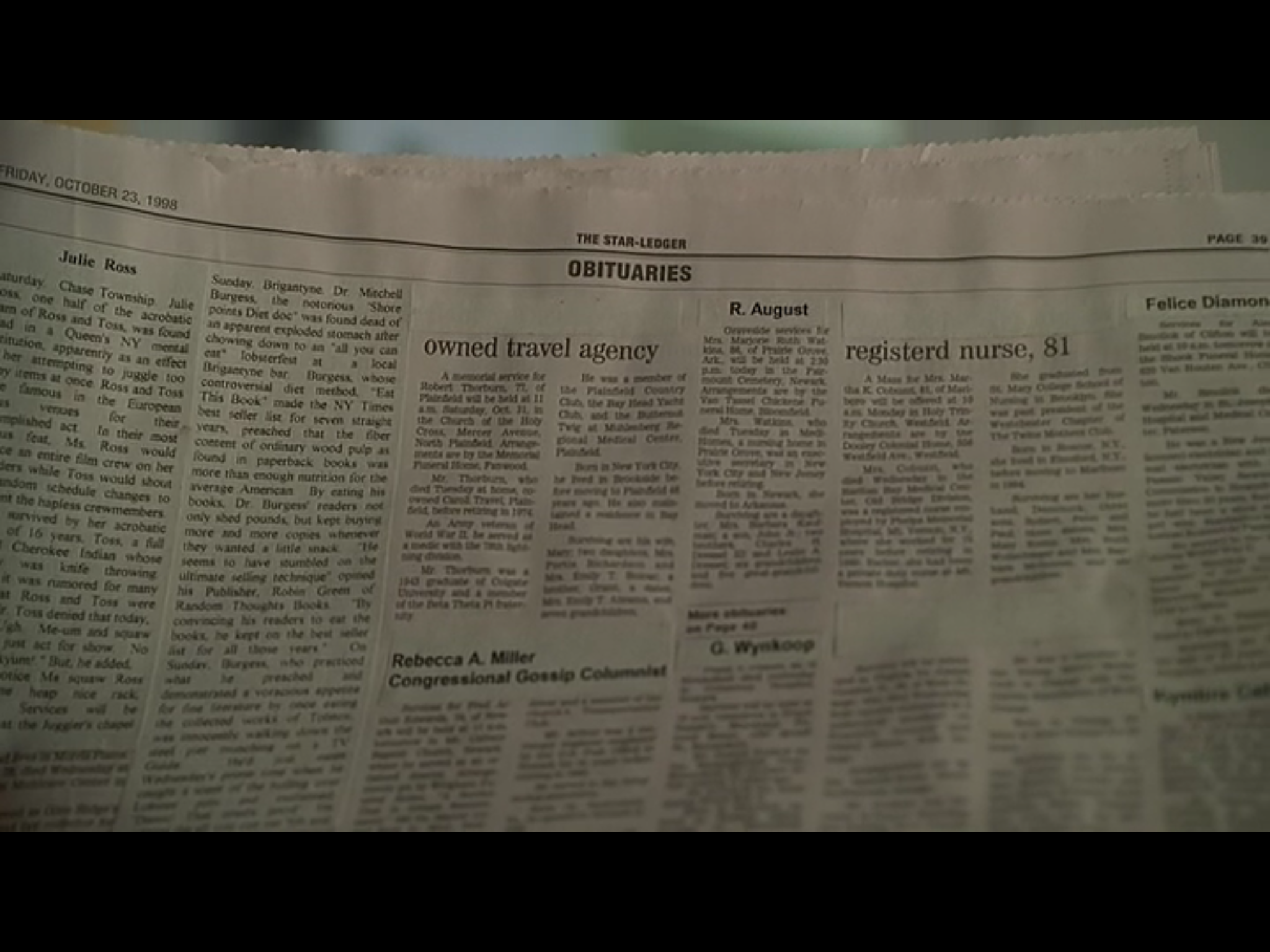 Julie Ross
[S]aturday. Chase Township. Julie
[R]oss, one half of the acrobatic
[t]eam of Ross and Toss, was found
[de]ad in a Queen's NY mental
[ins]titution, apparently as an effect
…her attempting to juggle too
[ma]ny items at once. Ross and Toss
…e famous in the European
…s venues for their
…mplished act. In their most
…s feat, Ms. Ross would
[balan]ce an entire film crew on her
[shoul]ders while Toss would shout
[r]andom schedule changes to
[torme]nt the hapless crewmembers.
…survived by her acrobatic
…of 16 years. Toss, a full
…Cherokee Indian whose
…was knife throwing
…it was rumored for many
…at Ross and Toss were
…r. Toss denied that today,
…Ugh. Me-um and squaw
…just act for show. No
…kyum." "But, he added,
…otice Me squaw Ross
…heap nice rack.
Services will be
…at the Juggler's chapel.
Sunday. Brigantyne. Dr. Mitchell Burgess, the notorious "Shore Points Diet doc" was found dead of an apparent exploded stomach after chowing down to an "all you can eat" lobsterfest at a local Brigantyne bar. Burgess, whose controversial diet method, "Eat This Book" made the NY Times best seller list for seven straight years, preached that the fiber content of ordinary wood pulp as found in paperback books was more than enough nutrition for the average American. By eating his books, Dr. Burgess' readers not only shed pounds, but kept buying more and more copies whenever they wanted a little snack. "He seems to have stumbled on the ultimate selling technique," opined his Publisher, Robin Green of Random Thoughts Books. "By convincing his readers to eat the books, he kept on the best seller list for all those years." On Sunday, Burgess, who practiced what he preached and demonstrated a voracious appetite for fine literature by once eating the collected works of [?] was innocently walking down the street [?] munching on a TV Guide…