It occurs to me, after posting the opening paragraph of "A Mammoth, So-Called," that I never put up the opening of "Stillborne." You may recall this is potentially the last of the Gorlen Vizenfirthe stories, and will be appearing in The Magazine of Fantasy & Science Fiction at some point in the nearish future.
The pilgrims Plenth had been hired to entertain crossed the desert of Hoogalloor in caravans made of enormous dried-out caterpillars, tossed about in the lightly ribbed interior with an assortment of carpets and cushions, peering out at passing cacti through portholes that had once been breathing spiracles. Other vehicles, more utilitarian and less appointed for comfort, had been fashioned from different stages of the same species' lifecycle. These included a pupal land-barge full of cookware and stores, from which the cook emerged each evening and prepared a variety of dishes according to the complicated dietary regimes of the travelers; and a wingless chrysalis which the caravan's guardians used as a mobile barracks, filling it with the racks of insect integument they'd fashioned into armor and arms. The beasts that pulled these hollowed-out vehicles of glossy chitin and dull husk were themselves a type of large, docile beetle, referred to as "Garden Variety" by Sister Quills, assistant to the caravan's Drover-Abbess. Plenth had nightmares concerning the nature of that garden, from which she woke feeling thankful that her route across the arid northwestern wastes would take her nowhere near the humid southern quarters where such creatures freely swarmed. Quills, who spoke with a southern accent, retained the customs of her birthplace, which included smashing the flies that constantly beset the caravan and sucking them off her fingers with an ecstatic expression, confiding to Plenth, "The little ones are sweet!" Plenth understood that in this harsh environment, one must exploit every resource to survive; but one didn't have to act so delighted about it. Thankfully Plenth had brought along her own food, which she ate sparingly, that it might last until they reached Wumnal Wells.
There's lots more where that came from. (This is the longest Gorlen story, at about 19,000 words.)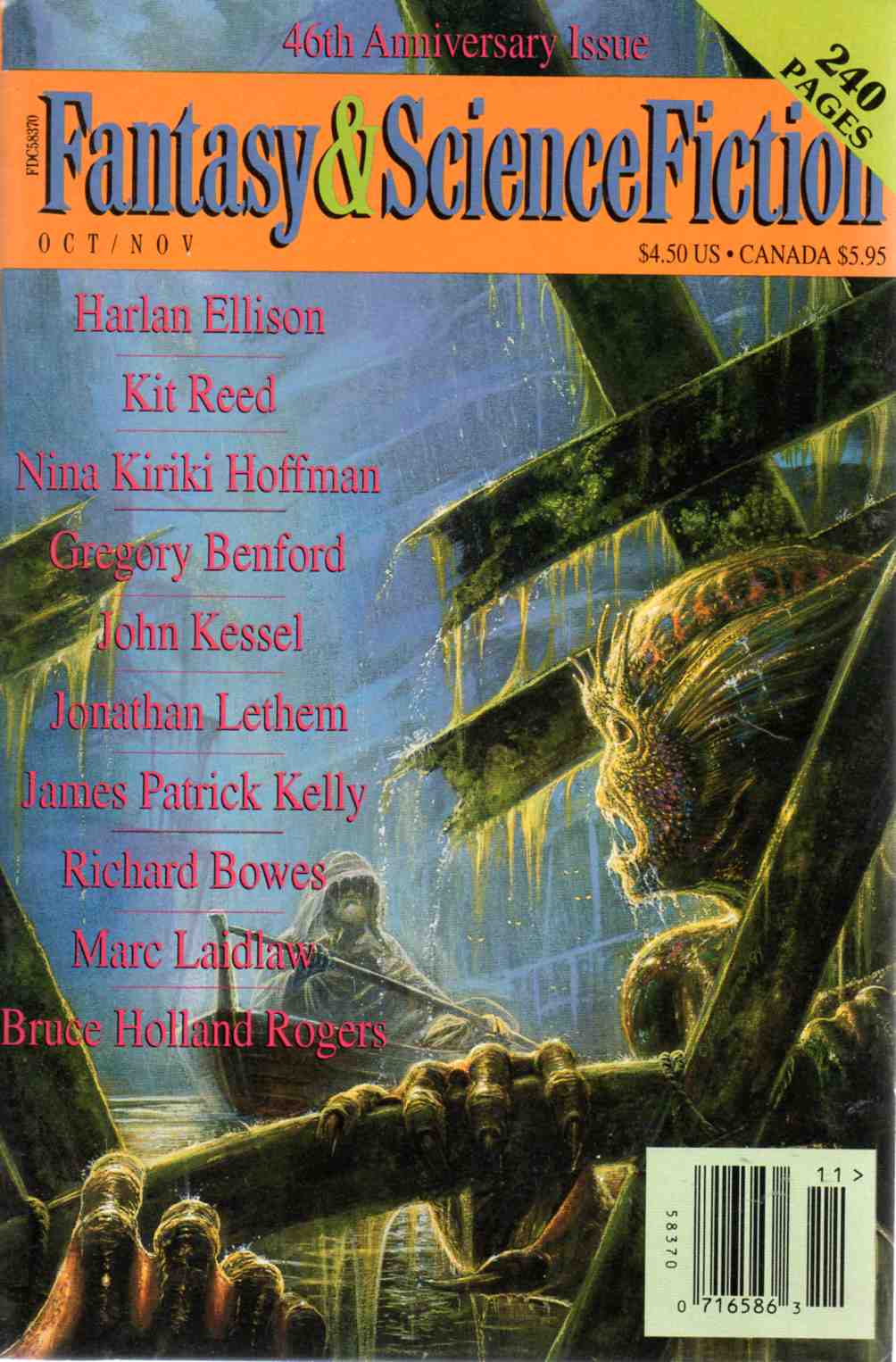 That image, by the way, is Bob Eggleton's cover for the first Gorlen story, "Dankden." I believe it was nominated for a Hugo the year it appeared (1995).